At present, a majority of our subscribers prefer to manage their subscription to our newspaper without the use of the Internet: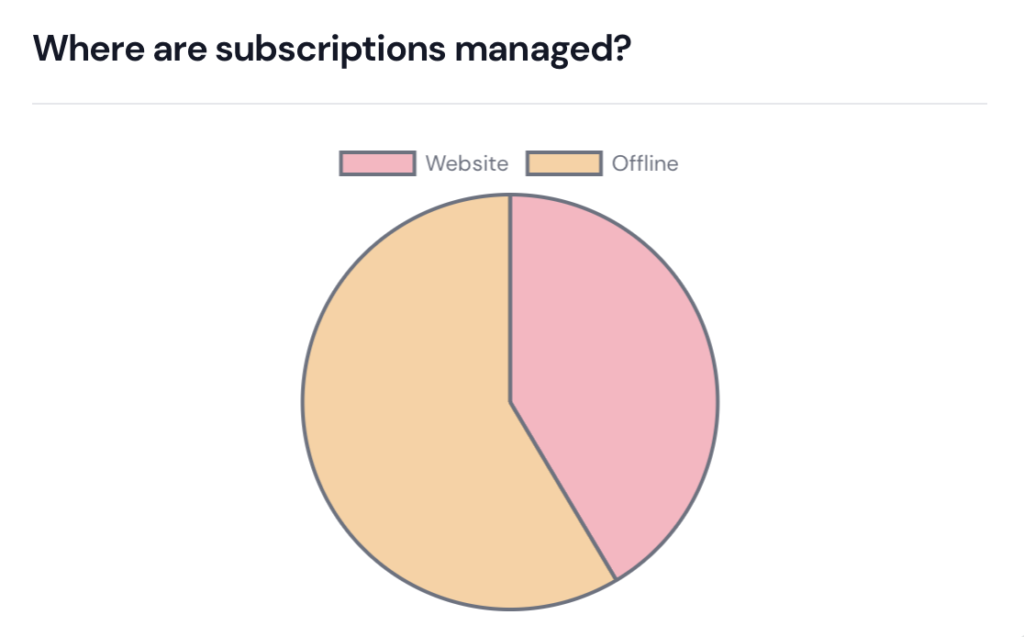 That means that instead of signing up for an online account with a username and password, starting a subscription with a credit card, and having the subscription auto-renew until canceled, these folks would rather mail us a check, stop in our office to pay by cash or check, or call us to provide one-time payment information over the phone.
This has non-trivial implications for how we're structured as a business and customer service operation. In contrast to some of my previous ventures where the expectation was that everything was done online in mostly automated ways, it means we have to be ready to handle:
receiving checks by mail and in person
having a point of sale system and cash drawer to receive payments in person
having a physical location with regularly staffed office hours for visitors
having a phone system with call routing and appropriate staffing to securely take credit card payments over the phone
having accounting tools to track offline payments and online payments together
making regular bank deposits
having processes and time to reconcile discrepancies that come up in managing offline payments (mail getting lost, payments being applied to the wrong thing, bad handwriting, etc).
having tools and systems for mailing out reminder postcards about upcoming subscription expirations
I don't present these things because they're a burden, but just to note that it's a significant amount of infrastructure, time and operating cost.
When I first started working with the paper, I will admit that I was tempted to think of ways to minimize the physical payment infrastructure in favor of moving most everything online.
I now understand that that won't be possible any time soon, and that's okay. There are many people in our current and potential subscriber population for whom online payments and accounts are just not a thing they want to do, and forcing them to do it would mean losing their readership and their subscription dollars.
More importantly, we end up making some good connections with people as a part of handling offline payments. They send us notes of thanks and encouragement in their renewal mail. They give us news tips or article feedback when they stop in the office. And we learn a lot every day from the people in our community who value local news enough to be engaged with it in some form.
So, we'll continue to work on making the online subscription management experience as smooth as possible for those who want it, while setting ourselves up to handle offline payments for a long time to come.